Remote Desktop Configuration Files
Remote desktop connection software is used to establish connection from local computer to remote hosts and transfer graphics information from the remote host to the local computer and user input from the local computer to the remote host. The software which is used to perform remote desktop connection typically certain customization. For example, if network connection speed is slow it may be necessary to set a lower graphics resolution or limit certain graphics features. On the opposite, if network connection is fast it may be possible to transfer audio information from the remote host or even 3D graphics.
Below we will describe several formats of files used by remote desktop connection software.
RDP File
RDP file format is typically used by Remote Desktop Connection tool which is part of Windows 10 installation. Remote Desktop Connection tool allows a connection to remote hosts running Windows operating system. While Remote Desktop Connection tool automatically stores most recent connection settings, it may be necessary to save connection settings in order to transfer them to another computer or store it for a backup purpose. In such case it is possible to use RDP file.
In order to save setting to RDP file click on "Show options" button as shown on the screenshot below.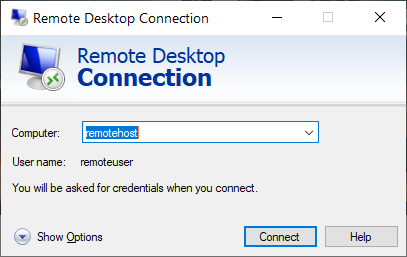 After that select "Save as…" and select a destination location for RDP file.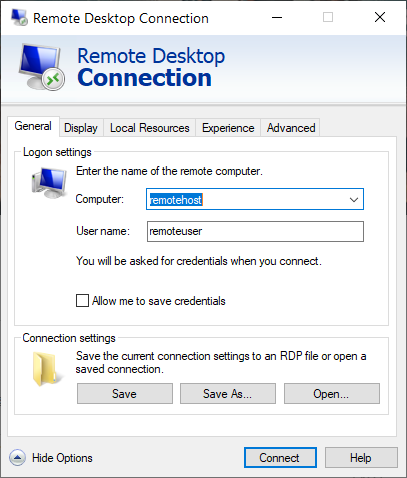 In order to open previously saved file use "Open…" button.
VNC File
VNC Viewer is a remote desktop client connection tool which utilizes VNC protocol to connect to remote hosts. It has functionality to store configuration settings in VNC file. File in VNC format is a textual file which stores connection settings for a single host. It means if your VNC has multiple connection hosts each connection will be stored in a separate VNC file.
Depending on VNC version export and import functions could be found in different places. Typically, they are available in the File menu as "Export connections…" and "Import connections…" options.